In the mid-15th century, Johannes Gutenberg invented Letterpress printing, which became the traditional form of printing text for books and other publications. It remained the primary means of printing and distributing information until the 20th century, when other forms of printing – including the advent of computers – dominated production of books, newspapers and other publications.
Because of its beauty and texture, we have seen a revival in Letterpress in recent years. Fine Letterpress work is criper than other printing because of its impression into the paper, giving greater visual definition to the type and artwork. For me, some of the best Letterpress projects we've been involved in have a "blind Letterpress" impression, with only an impression without ink (typically combined with a single color of ink).
Here are some of the primary reasons our clients have opted for Letterpress:
• It's vintage.
• It's romantic.
• It's sophisticated.
• It's tactile–you can generally feel the impression in the paper.
• If part of the design, metallic ink tends to be more brilliant than metallic ink printing on a traditional press (although it is not as shiny as foil).
Letterpress is not for everyone, and should be avoided if:
• Your project needs full color printing throughout as Letterpress is generally limited to one or two colors.
• You are on a tight budget or a short timeline as there is significant set up time and labor associated with these projects.
• Any high volume projects (1,000+ pieces).
Please take a few moments to explore these creative samples of Letterpress projects:
Moon Lander: This piece utilizes blind impression to provide the attention-getting look of the moon's surface. View here.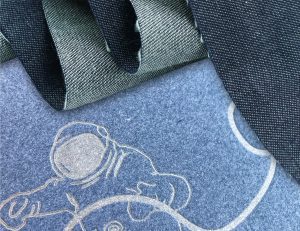 Blue Denim: A unique creation with Letterpress printing on recycled denim with metallic silver ink.
Business Card: Beautiful non-standard size duplex (see May blog for more on duplexing) business cards with Letterpress blind-embossed on both sides clearly conveys "design" to anyone who receives one. View here.
Holiday Card: Letterpress blind impression creates celebratory champagne bubbles for this New Year's card. View here.
Outer Space Envelope: Letterpress created a tactile addition to the back flap of the envelope, making it more appealing. Who wouldn't want to open it to see what was inside? View here.
Space-themed Rocket Card: Blind embossing made this launching rocket's smoke at lift-off come to life. View here.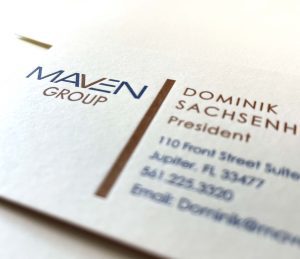 Business Card: Using 2-color Letterpress, this card will certainly stand out at a networking event. Note: Not all pieces need to be done using Letterpress. Ink colors can be matched across different processes.
Custom Envelope: This Letterpress envelope demonstrates this firm is serious about their financial business. View here.
Letterpress is considered a craft and requires special equipment and staff training. It is not readily available from most printers, locally or nationally. We are pleased to offer Letterpress to clients who want that special touch with their project.
I hope you'll enjoy watching a brief video of our vintage, 103-year-old Chandler & Price Letterpress in action, here!
Now that you've seen the unique value, beauty and texture of Letterpress, contact us today for a consultation. If you'd like to see more examples of our work, please check out our Instagram page.
Like what you're reading? Have you signed up for our marketing tips enews yet?