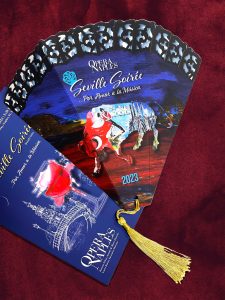 As you reflect on the gala and fundraising event invitations you opened these past few months, were there a couple that stood out in your mind? Did you look at the package and think, "I wonder what inspired the planners to come up with the concept and how did they produce an attention-getting package?"
The event planners for the Opera Naples annual gala began working with a "Seville Soiree" theme, hoping to incorporate a Spanish hand fan into the invitation. We thrive on coming up with options for challenging invitation projects. We worked closely with the Opera Naples team and brought a design solution to them that incorporated, through die cuts and artwork, an invitation that looked like an intricate, beautiful Spanish hand fan, complete with the genre scenes of bullfighters and flamenco dancers. The fan invitation included a die cut to incorporate a lovely gold tassle on the bottom. Using more die cuts on the platform piece, the fan nestled in perfectly for an eye-catching presentation that fit into a standard-sized envelope for cost-effective mailing.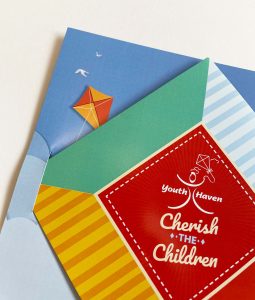 Yes, we can do fans. But can we do kites? Of course. Youth Haven started with a whimsical kite theme for their fundraising event. As you can imagine, a kite-looking invitation presents a design, packaging and mailing challenge because of the kite's non-standard shape. We worked with them to create a custom designed die-cut, kite-shaped invitation that fit into a die-cut standard-sized piece, making the colorful kite appear to be flying in fluffy, white clouds, and ensuring a simple, cost-effective mailing.
As you begin planning your next invitation package or direct mail piece, contact us for a consultation. If you'd like to see more examples of our work, please check out our Instagram page.
Like what you're reading? Have you signed up for our marketing tips enews yet?