Shhh… I'm going to let you in on a little secret about saving money on bulk mail postage in the US. Don't share this with your friends unless you REALLY like them.
One of the most common requests that I get from my customers, is the request to use first class postage for their mailing campaign. This week's post is inspired by yet another customer requesting first class postage. The surprising thing is that many nonprofits and businesses alike in the US, are not aware that precancelled stamps provide many of the same benefits as first class postage at a substantially lower postage rate. If you ever send bulk mail, or your clients send bulk mail, then read on to learn how you can use precancelled stamps to save money on your next campaign.
How does a precancelled stamp work? A precancelled stamp is meant to be used instead of a printed permit or indicia on US bulk mail. The idea is that it makes bulk mail look like regular 55-cent first-class mail, and using precancelled stamps does not cost any more than regular bulk rate postage. Precancelled stamps are available at the nonprofit rate, presort standard rate, and first class presort rate. If you want your mail to look like it was sent at first class, but you don't want to pay first-class postage, precancelled stamps are the perfect solution for you.
Postage for bulk mail with a permit is due at the time the mailing is dropped off at the post office, but precancelled stamps must be purchased in advance. The amount that you pay for the precancelled stamps is then deducted from your postage total when your bulk mailing is dropped off at the post office. It's important to understand that your postage is identical with or without precancelled stamps; the only difference with a precancelled stamp-mailing is that you make payment for your postage in 2 installments instead of paying all at once.
Since the intent of using a precancelled stamp is to make a bulk mail piece look more like first class, it doesn't make a lot of sense to me for you to use them with postcards. Precancelled stamps are most appropriate for invitations, or any type of offer or announcement that is sent in an envelope. Our customer, who is the inspiration for this post, will be using precancelled stamps on the invitations for her organization's largest annual event.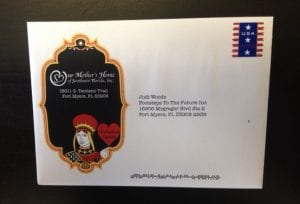 Where can I get precancelled stamps? Probably the easiest way to get precancelled stamps is to work with a 3rd party mailing professional that either maintains an inventory of precancelled stamps or has ready access to them. If you're already working with a company to have your bulk mailings processed, be sure to inquire about this option.
If you'd like to purchase precancelled stamps directly, you first need to have an active bulk mailing permit. If you already have your permit, according to the USPS, you are supposed to complete PS Form 3615. Once approved, this form issues you a second (free) permit that you can use to buy the precancelled stamps. In my experience, however, many USPS Business Mail Units will sell you precancelled stamps without completing this form as long as you can verify that you have an active permit account with the USPS.
As far as I can tell, the USPS does not currently have a mechanism in place to purchase precancelled stamps online. They must be purchased at the post office where your permit is held, and they are available in rolls of 500, 3,000 or 10,000. If you need an odd number for a planned mailing, then you may have to purchase more than you actually need.
Caution: the USPS has a large inventory of precancelled stamps without adhesive backs. These are the old style "lick and stick" stamps that are much more tedious to apply. If you have staff members or volunteers applying the precancelled stamps, you should be able to work with your local Business Mail Unit to order ones with an adhesive back. If your mailing is time-sensitive, and most are, be sure to investigate this well in advance of your deadline.
By the way, if you're convinced that your bulk mailing requires first class postage, and that as a result precancelled stamps are not a viable option for you, then please read this post "First Class Postage versus Presort Standard Postage: When to use Which."
Let's face it, everybody has a limit to their marketing budget. You owe it to your organization to be as creative as possible to stretch this budget without compromising quality. In many cases, precancelled stamps represent a viable opportunity to get more for your money.
Like what you're reading? Have you signed up for our marketing tips enews yet or are you following our blog's rss feed?
Please use the comments section below to share your experience using precancelled stamps, or to offer additional money-saving strategies for bulk mail.