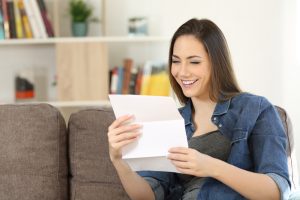 We've been living with the internet for almost 30 years, and there's no going back. Like it or not, most of us are digitally dependent. Our jobs, social lives, and even education happen more and more online. And with the average person spending 11 hours a week sorting through work messages alone, no one needs more email. But what about direct mail?
Millennials are the first to admit to suffering from digital burnout. But since they represent 85% of the buying power in the US, it's important to reach this generation and break through the clutter. Here are three reasons direct mail is becoming the best way to market to an entire generation that just happens to have $1.4 trillion to spend.
What's Old is New Again
"Junk mail" means something completely different these days. According to the USPS, 84% of Millennials take the time to look through "snail mail" while rarely browsing the emails their "junk" filters have blocked. Physical mail is a novelty that hasn't worn off. Including a touchpoint in your campaign that your audience can actually touch can generate purchases five times larger than even the most viral emails. 
Think of what happens with email. It can be overlooked, deleted, filed away and forgotten, or, even worse, result in the dreaded "unsubscribe." But the average lifespan of a piece of direct mail is 17 days, meaning your message has more time to stick.
The Perfect Complement
When marketers think omnichannel, chances are they're thinking of a campaign across social media, email, targeted ads, or even TV. Don't overlook the power of adding a printed piece, even if your goal is to drive your audience online. Valassis found that 60% of consumers are more likely to reach for their wallets after seeing an ad both on and offline. Over three-quarters of Millennial parents say printed ads have steered them online to make a purchase.
Even Amazon Does Direct Mail
Yes, even Amazon sends catalogs and direct mailers as part of their hyper-personal customer outreach. Over half of Millennials look forward to "hard copy" catalogs that make shopping a leisure time activity. Make your postcards and other direct mail pieces even more entertaining with bright colors, unique folds, richly textured papers, and tailored messaging. 
Even as more and more people go virtual for both work and school, online isn't the only place to reach customers. In an age of technology overload and digital detoxes, direct mail can really deliver, especially for a Millennial audience.
How will the rate increase affect you and your customers? Share your comments below.
Like what you're reading? Have you signed up for our enews yet or are you following our blog's rss feed?