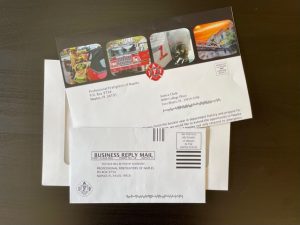 With close to one-third of all giving occurring in December, the end of the year is a crucial time for nonprofits to use direct mail as a final appeal for donations,  Even though it's still summer, start early with planning how you're going to reach both regular and new donors. Here are five ways nonprofits can use direct mail to have a big impact on year-end donations:
1) Stay in Touch 
Over 60% of people making donations give to organizations they've either previously supported or have been recommended. Continue to appeal to your donors year after year with fundraising letters telling your story and encouraging them to spread the word. 
Remember, the average person receives over 100 emails a day. It's easy to get lost in the mix. Sending a tangible, personalized update can remind them to make that annual donation.
2) Mix it Up with Direct Mail
A strong digital presence is crucial to keeping your supporters up to date on your day-to-day needs and initiatives. But running an integrated campaign provides a full experience for current and potential donors. 
Think outside the box with your direct mail in ways that don't work on screen, with cut-outs, pop-ups, and unique shapes. Campaigns that use direct mail to complement their digital media see a 118% increase in response rates. 
3) Go Big
Size matters. Oversized nonprofit direct mail envelopes have an above-average ROI because they stand out from the crowd. Get your money's worth and invest in the pieces that are proven to get results. Try a multi-drop campaign that uses the same specs with variable elements to save on design and print costs to get even more bang for your buck.
4) Get Touchy Feely
Sharing personal stories is a time-tested way to appeal to your audience, but did you know that using a textured sheet can trigger an even deeper connection (and response)? Studies have shown that touching a rough surface enhances empathy and donation behaviors, especially when recipients are not familiar with your work. Ask your printer to recommend a paper that makes a tactile impression. 
5) Save Money to Make Money
Filling out a simple form at the US Post Office can help you save quite a bit on postage. As long as you're a 501C3 organization, you can save up to 30 cents per nonprofit direct mail piece that's 6×11 or smaller and less than 3.3 ounces. 
Our experienced marketing experts, in-house data management, graphic design, printing, and mail services can help you make the most out of your end-of-year campaigns. 
Like what you're reading? Have you signed up for our enews yet or are you following our blog's rss feed?
Have you seen a difference when integrating direct mail into fundraising campaigns? Share the results below!