Whether you are creating a membership directory, an event program or a book of your favorite poems or photographs, you have several options for binding the pages. The role of bookbinding is both for decoration and for protection. The binding not only connects the pages within, but also protects them from physical damage.
There are three primary bookbinding methods available:
Saddle Stitch
The most popular and generally the least expensive of the three options, saddle-stitched booklets are bound together with a staple-like material in the middle. Pages are printed on one machine, then moved to the stitching machine that essentially "sews" a metal stitch into the spine. With this method, bleeds are important to ensure text does not get lost in the spine as the booklet is folded. Saddle stitching is ideally suited for smaller publications, in the range of eight to 40 pages. With saddle-stitching, the total page-count must be divisible by four.
Example of a saddle-stitched booklet: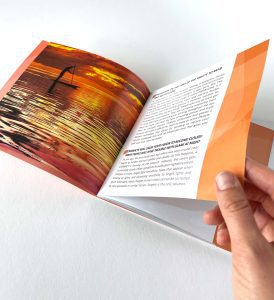 Coil/Wire Binding
Utilizing a plastic coil or wire to bind together the pages of your instructional manual, membership directory or booklet requires a little more planning. We work with our clients to carefully lay out pages for two-sided printing to ensure content is maximized in the area beyond the space required for the coil binding. This type of binding works well for instructional manuals and other documents you want to leave open to a particular page. Also, you can include tabs and can choose from many sizes and colors of plastic or wire to enhance your print project, whether 20 or 200 pages. Finally, there are no restrictions for total pages being divisible by four, as there are with saddle stitching.
Example of coil/wire bound membership directory: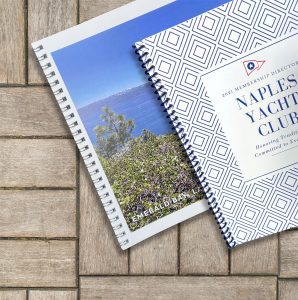 Perfect Binding
The perfect bound process can give your piece that bookshelf quality look. It is often used by our clients for upscale presentation materials. In the perfect binding process, the inside pages are glued into a spine created with the cover page. Of the three options, this is the most expensive given the set up costs, which include melting glue to create the hard spine. From a cost-effectiveness standpoint, a minimum of 20 books, with at least 24 pages each, is recommended.
Example of soft cover, perfect bound poetry book:
Our team does amazing bookbinding work every day, from newsletters to annual reports, directories, event programs, promotional brochures and more. While you can find many online tools for these three binding methods, you will not find our full-service set up and care throughout the process, up to the final trim. If you are contemplating a project that could be enhanced with bookbinding, reach out to me for a consultation and a quote.
Like what you're reading? Have you signed up for our marketing tips enews yet?