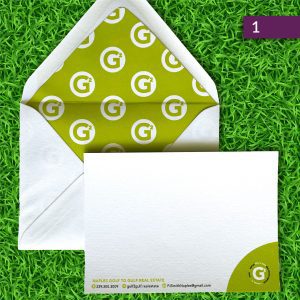 How would you describe your experience as you are pulling a letter or card out of a lined envelope? Was it positive? Did the package feel special? I think most people appreciate the extra touch and careful thought when they receive a note card or invitation in a lined envelope, especially with a custom-created matching lining.
While you can purchase pre-lined envelopes, the options are quite limited. They generally are available in gold foil or silver foil. Pre-lined envelopes also are not available in many sizes or styles. If you go for the EuroFlap envelopes for your project, there may not be any pre-lined options at all.
Our creative design team members are always available to provide you custom-lined envelope design options and will work with you to achieve your ideal project results. They can offer one, two, or even more options for you to choose from.
As background, custom-lined envelopes are produced in two standard ways:
1. Using a solid color or metallic colored sheet of paper, which is generally coordinated with an ink color or the colored used for the back side of a duplexed card, or to match a colored stock on presentation folder.
2. Custom printed liners which could be anything like a pattern from nature, a logo repeated as a wallpaper, or other variations as you'll see in the samples below.
Because of the irregular shape of the EuroFlaps, we utilize our unique capability to print a large flat sheet, and then use our laser to precisely cut out the correct shaped liners. We use the same process for the solid colored liners for EuroFlaps.
One popular design for lined envelopes utilizes your company or event logo to create a wallpaper effect. As you see with the Naples Golf to Gulf Real Estate example (1), this is so simple and yet the combination of the matching envelope and note card has such a positive impact.
As mentioned earlier, our design team can create options for your project. In this example (2), we created four options for the wine-themed envelope lining: a realistic photo of grapes for the subtle wine feel; the illustration look but with a watercolor effect; an illustration style with deep red colors; and flat lay photography with a vineyard vibe.
No matter the reason or occasion, handwritten cards always send the right message, especially dressed up in matching envelope liners, shown here.
This example simply shimmers! The custom-designed Euro Flap gold glitter liner is stunning and creates a beautiful combination with the equally sparkling invitation.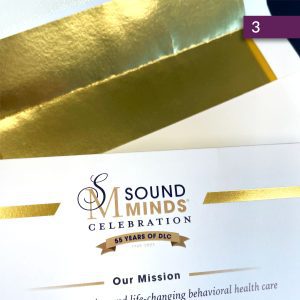 If your project doesn't require a custom-designed envelope liner or you are on a tight deadline and need lined envelopes quickly, we can work with you to secure "off the shelf" versions to make your mailing more impactful. In this example (3), the David Lawrence Center's Sound Minds event invitation is attractively presented in a gold foil lined envelope.
If you are ready to see how custom-lined envelopes can enhance your mailing projects, our design team is ready to help. Please contact us today for a consultation. If you'd like to see more examples of our work, please check out our Instagram page.
Like what you're reading? Have you signed up for our marketing tips enews yet?