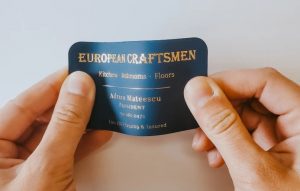 If you're trying to connect with a prospect or make an existing customer feel like a VIP, the best way to stand out is to incorporate a unique twist. Business cards, presentation folders, book covers, invitations, and direct mail campaigns are part of every company's marketing plan, but they don't have to be ordinary. Print is the only way to deliver a message your customers can actually touch. Foil printing can make the difference between marketing materials that blend in with the rest and a glossy, irresistible piece. Keep reading to learn more about this specialty technique and browse some of our favorite projects.
Foil 101
Traditional foil printing uses heat, pressure, and a metallic paper (the foil). The design is etched onto a metal die or a copper plate, and the foil is positioned over the substrate receiving the treatment. The die or plate is heated, and a press is used to push the foil onto the paper, bonding it to the designated areas. Your foiled elements will be slightly debossed and textured. This process works best on uncoated, thicker paper stocks.
But as printing continues to evolve, so does foil. Digital foiling doesn't require the use of plates – it's printed directly from a file on the computer. This means there are no setup costs, allowing for greater flexibility in run size. Raised foil is placed over a raised UV coating during the post-print process. By adding a glossy polymer coating to spot locations, raised foil allows logos and other design elements to pop off the page.
Types of Foil
Several types of foil can be applied to your design. There is metallic foil, which comes in standard colors like silver and gold but also in colors like blue, green, and red. Pigmented foils can be used in contrast with your paper–think white or colored foil on a black background. Pearl foils, commonly used in wedding invitations, have an iridescent sheen rather than a metallic look. Holographic foils give off a rainbow effect or pattern that reflects colors in the light.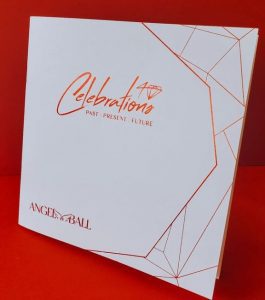 But before finalizing your design, it's a good idea to consult with your printer. Small letters and thin lines may need special attention during the process. Space the type loosely to ensure readability. It will need a little more room to breathe.
Simple business cards can look instantly impressive. Things like reports, envelopes, labels, and letterheads can be much more enticing. If you're looking for a distinctive way to add style, then foil printing is the way to go. As a result, your chances of cutting through the clutter and increasing engagement go up! Share your favorite project pictured here in the comments, or tell us about something you've done that really stood out because of foil!