The next time you are at a networking event or business meeting, watch closely as business cards are exchanged. Which cards are most interesting? Do some cards compel you to take a second look because of the look or texture of the paper, or the colors and design. Have you seen cards that clearly represent an organization's brand? What does your business card do for you and your organization?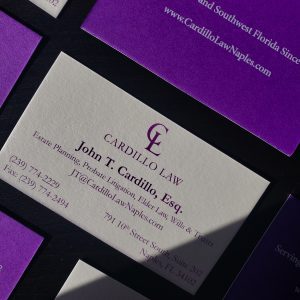 If you are contemplating new business cards, duplexing is one tool you should consider. Essentially, duplexing is a process of gluing two sheets of paper together to provide clean, crisp color on both sides of the card. It adds thickness and bulk to make the card stand out among the versions typically offered by online printers.
The custom-made duplex cards provide opportunities to select unique paper and printing options to better align with your organization's brand. As you review the samples below, you may develop ideas about redesigning your own cards. We're here to help you make your ideas a reality, guiding you in navigating paper and color selections for your perfect business card!
When Naples Attorney John T. Cardillo meets someone and hands him or her his card, they will feel the card's depth created with two sheets of specialty paper glued together. The card showcases the law firm's brand color palette of pristine white and distinctive purple.
When creating their new business cards, Naples Art chose to follow a multi-color path, utilizing four different colors of papers for the back of the cards: azure, royal blue, ablatross and fuscia. Doesn't this fun look just say, "Art?"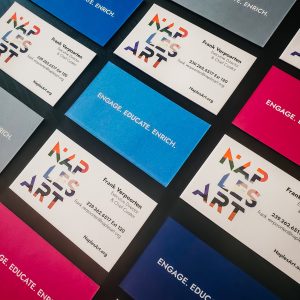 The Dawn McKenna Group "quilt" cards are an example of how a business card can become a mini company brochure, providing a picture of the real estate business through lovely photos. In addition, this card features soft-touch lamination to make it even more interesting, appealing and memorable.
With duplexing, so many options for a creative design are possible. In this sample, gold and white foil is used for Concierge Catalyst's business cards to create an eye-catching tool for business promotion.
For Adornment South, we took it one step further with a triplex, not duplex, treatment with gold metallic specialty paper sandwiched in between, and gold foil detailing. This is a card that gains attention every time.
In addition to business cards, duplexing provides an elegant option for note cards and invitations, as well as menus. This dark blue teal menu added an elegant feature to Yacht Club menu.
If you haven't thought about customized business cards, note cards, invitations or menus, please review these samples. Then contact us for a consultation. If you'd like to see more examples of our work, please check out our Instagram page.
Like what you're reading? Have you signed up for our marketing tips enews yet?