There are times when the traditional pull-up banner is a good choice for a trade show or event.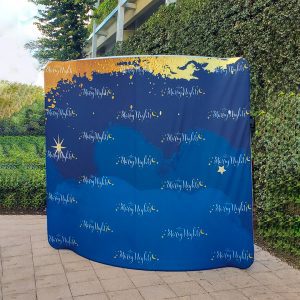 However, if you frequently need to change your display copy or artwork, or you are holding events outdoors, you will want to check out the wide range of fabric displays. With these displays, you purchase the hardware only once and the "shirt" that covers the hardware structure can easily be designed and produced to offer maximum flexibility to provide the appropriate branding and messaging for every purpose.
When Youth Haven was looking for a step-and-repeat display for guest photographs during their Starry Night Gala reception, we worked with them to provide a fabric and easy-to-assemble hardware option that works incredibly well in an outdoor environment. This display is made to handle windy and damp conditions. The air passes through the fabric and the entire display stands up well to humidity and rain. The traditional pull-up banner or other standard display would blow over in the wind and would become soggy or could be destroyed by rain or humidity.
For an event for Golisano Children's Museum of Naples (C'Mon), we recommended a creative fabric display option that gave them a unique branding opportunity during event check-in. The specially designed iPad station became a seamless and integral part of their event—in addition to being a fun feature for the arriving guests.
As mentioned, there are many advantages of the fabric displays, including that the hardware is easy to re-use and you only need to pay for the fabric production for any new artwork. In addition, they are lightweight and easy to set up. The hardware section pieces are numbered and easy-to-follow instructions are provided—a "follow-the-numbers" process that even I was able to accomplish when recently setting up for an event.
As you plan your next trade show or event displays, consider the alternatives to the standard displays. We believe you'll find the fabric options offer flexibility, are cost-effective and terrific for any event–particularly outdoor events—which are popular in our community.
If you are contemplating your next display for a trade show or event, contact us for a consultation. If you'd like to see more examples of our work, please check out our Instagram page.
Like what you're reading? Have you signed up for our marketing tips enews yet?