"A masquerade ball is all about the little details. The masks alone are incredibly intricate. Every touch has to be special, and we were so excited to partner with the Playhouse to create these unique invitations for their fundraising gala."
Blase Ciabaton, Naples Print Source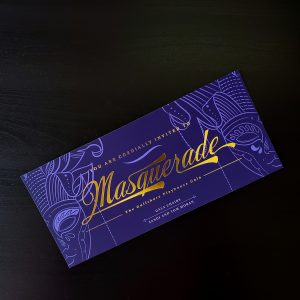 The Gulfshore Playhouse finds inspiration in the magic of theatre. To spread that magic, they set out to raise money to build the Gulfshore Playhouse Cultural Campus. The theatre and education center will be a landmark destination. The first season on the new stage will debut in 2023, but the entire project could not have been possible without extraordinary fundraising efforts.
To keep that momentum, the Playhouse will go incognito for Masquerade: The Gulfshore Playhouse Gala in March of 2023. In addition to supporting a great cause, donors will enjoy an evening featuring Broadway entertainment, exceptional food and drinks, and good company. The stage is set for a grand spectacle, but to set the scene with the invitation, the Gulf Shore Playhouse turned to Naples Print Source.
The envelope makes the first impression. Choosing a straight flat seal flap implied that what was inside was not just another business communication. The return RSVP card and envelope also broke the mold. "Most clients spend on the mailing envelope and cut costs on the response that will get put back in the mail. But we wanted to make a splash with a premium, gold Stardream® paper that practically sparkles," explained Blase.
The invitation itself was a first for Naples Print Source. Incorporating the waves found in the architectural plans for the new Playhouse, the details on the card were an eye-catching gold foil. But the innovation lay in the combination of foil and soft-touch lamination. "We had never done this combination of soft touch and foil. We weren't sure the foil would stick if we laid it on top of the soft touch, but we didn't want to lose the luster of the foil by coating over it. It worked, and really impressed the client."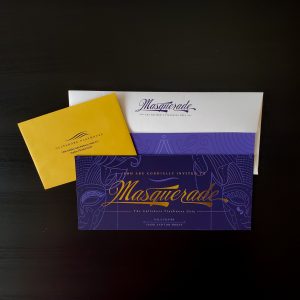 Another often overlooked chance to impress? The address. While labels are commonplace, a beautiful address printed directly on the envelope is just one more distinction that attracts attention.
"This is such an important event for our client. They relied on us to elevate every aspect," said Blase. "Unique invitations for events can make a huge difference. A lot of people think details like premium paper and foil treatments are only for larger runs. That's just not the case. We can upgrade almost any project with the technology we have in our shop."