What would you do if you woke up tomorrow and the entire contents of your database were gone?
Not only would all of your contacts be gone, but so would the history of donations and payments. If you use your database to track event registration, that information would be unavailable as well. If you completely lost your data, what's left of your organization?
When it comes down to it, your database IS your organization.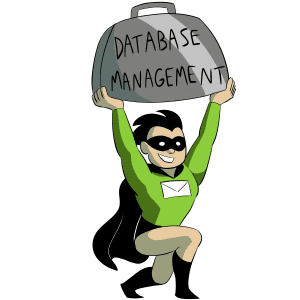 As a membership organization, you need to have immediate access to:
Who is current with their dues
Each member's membership level
Lapsed members
Event registration & payment history
As a charitable organization, you need to have immediate access to:
Date & amount of last donation
Corresponding donor level
Donor's current contact info
Lapsed donors
You also need to have a sense of confidence that all of your data is securely backed up.
If your organization currently has a single person responsible for database maintenance then your organization is vulnerable. Whether this person is paid or a volunteer, access to your data can be abruptly cut off do to an unplanned absence or permanent separation from your organization.
We're here to help!
Would you consider working with us for your organization's database management needs? Our team has 13 years of database management experience with hands-on expertise in management of:
print campaigns
email communication
annual renewal communication & processing
event registration
archiving non-renewing members
tracking donations
management of sub-groups
exporting data & generating reports
Our team uses the Wild Apricot platform to manage databases for nonprofit organizations and membership organizations. We would be happy to offer professional references from existing database management clients.
Simply contact us if you'd like to have a conversation about our database management services.
How will the rate increase affect you? Please share your comments below.
Like what you're reading? Have you signed up for our enews yet or are you following our blog's rss feed?