As you search for ways to make your marketing materials stand out and get noticed, you might consider what tools and techniques others are embracing to communicate with their clients and donors. When I reviewed the projects my team has helped bring to life this past year—including invitations, business cards, folders, annual reports, and newsletters—I noticed a few things that might be of interest to you.
Trend 1: Letterpress Growing in Popularity
Somewhat surprisingly, we've had an explosion in interest and orders for Letterpress projects in the second half of 2023, and I don't see this abating. I suppose what's old is new again. Our clients seem to really appreciate the texture that's missing in printing produced on modern equipment. See this short blog post that explains why Letterpress is seen as a competitive advantage in creating marketing pieces.
Trend 2: Raised Spot Varnish Embraced More Widely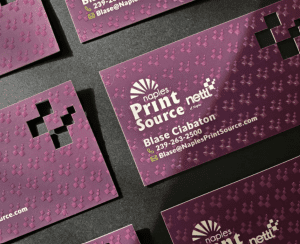 Another related but completely modern way to add dimension to a print project is with raised spot varnish. It only adds dimension to the side of the card where it's used. It's interesting because it can be used in such a way that it accentuates the printed artwork, or it can be used independent of the graphic artwork as it is on my business card.
Here's a recent example with the Children's Museum of Naples. Notice how it actually makes the water in the piece look wet and shiny: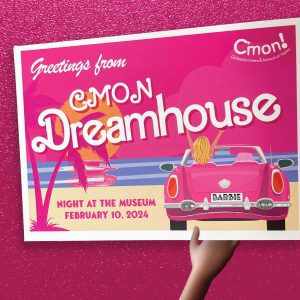 If you want to learn more about how raised spot varnish can positively impact your marketing materials, check out this short article.
Trend 3: Fabric Displays Used in More Ways
As staffing continues to be a challenge, a large number of our clients are ordering fabric displays. Why? With the right fabric display, your brand can be clearly communicated at a fundraising or employee recruitment event. The most popular fabric displays are the step-and-repeat style with the company or organization's logo in the background. These have become great recruiting tools. It seems that staff turnover is a constant challenge, so many of our clients pre-schedule multiple career fairs and use these at their booths. They are also phenomenal for event marketing. Think of all of the event photos that we see shared across social media channels every day. Isn't it great to have your organization's branding in the background of those photos? See this blog post to learn about fabric display options.
If you are ready to embrace these trends for your 2024 marketing efforts, reach out to us today to schedule a consultation and get a quote.
Like what you're reading? Have you signed up for our marketing tips enews yet?